Here's the Front Page on Saturday Oct 29th's Globe and Mail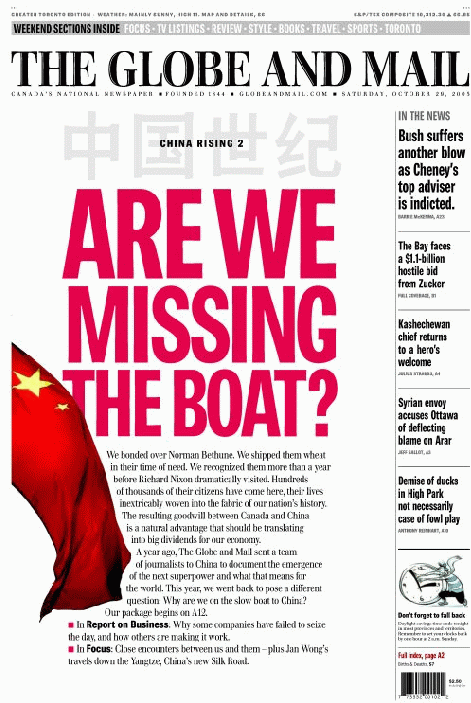 (view the image to see it larger)
Last Year the G&M did a major set of Stories on "China Rising", so this is a interesting followup. Also keep in mind China is increasing looked at as an alternative market, in the context of our issues with the USA, Softwood lumber and NAFTA. A bit more balance the last months Hong Kong is Booming again, but it's democracy languishes., although it looks like politics and human rights did not get a mention.
Staring with : The Canada Syndrome (with a side bar with links into the orther related story) : It doesn't amount to much. Of all the countries that invest in China, Canada is a bit player, with roughly 1 per cent of foreign direct investment. But it doesn't have to stay this way. Companies of all sizes must develop strategies to profit from the opportunities China offers — even the smallest player needs to be aware of its place in the competitive landscape. Take it from David Anderson, president of Phoenix Performance Products, a small hockey equipment manufacturer in Mississauga
Canada's New World : Report on Business flash presentation
Battle for the brains grows more intense : Staffing another challenge Nortel faces in China
For Nortel, it's veni, vidi, build strong R&D, then vici : THE CHALLENGE Create competitive presence in China THE LESSON Enter for the lower costs; stay for output quality; expand for innovation.
Business "FACTS", and where we are at , a statistical portrait of two countries, and two economies.
Is trade with China mission impossible? : Try as it might to crack the booming Chinese market, Canada only seems to be falling behind. (Ontario Premier Dalton McGuinty sets off on a trade mission to China on Friday)
Canada: Nice place, but a tad too boring. : Despite a lengthy history of warm relations, most Chinese know very little about the country that gave them the heroic Norman Bethune
'I still miss Second Cup coffee' : The "reverse culture clash" is perhaps most daunting for people returning to China who don't actually come from here.
Mystic river :
The Yangtze River delta is now China's most vital and contentious economic region, with a mega-dam displacing over a million people. JAN WONG took a queasy 'five-star' cruise to see (and smell) its miracles and misery first-hand. by China Cheerleader, Comrade Jan Wong
No longer the conquering hero : They used to be called 'sea turtles' — young Chinese who earned their stripes abroad before coming home to show the locals how it's done. Now, the money is drying up and they're mocked as 'seaweed.' The Chinese government is getting worried.
A diplomatic exchange : When The Globe's JAN WONG meets new Chinese ambassador Lu Shumin, she discovers he has a long history with Canada — and, in particular, with her.
Mao's 'hundred schools' in a hurry : Soon China will have as many university students as Canada has people — which has sparked an unprecedented expansion of its education system. Not only are billions being poured into bricks and mortar, JAN WONG reports from Hangzhou, new joint ventures are taking flight, one of them with a Canadian partner.
'I wanted a challenge' : Cynthia Lee and Will Staiger are preparing to help reverse the flow — slightly — of a major brain drain. Every year, thousands of Chinese students come to Canadian colleges and universities, but next spring Ms. Lee and Mr. Staiger will head the other way.
Updates :
Simon's World has inculded me in his Daily linklets of October 31st
The China Digital Times and Andrea at T-Salon also noted the Globe and Mail: China Rising – "Are We Missing the Boat?" special issue. She found it unlinkable, which is not true – the links are just very very well hidden. The best places to start – apart from my own posting – is the sidebar in The Canada Syndrome story. Andrea also has her own, fair and true, remarks. Part of the problem of having the USA market (and culture) so close is we frequently do not bother to look to other markets like Europe, China or India (even with all of Canada family ties to these regions).
Interesting connection : Ontario Premier Dalton McGuinty sets off on a 10-day trade mission to China (Beijing, Hong Kong, Shanghai and Nanjing). In Jan Wong's interview with new Chinese ambassador Lu Shumin, she missed the fact that he and 2 other Chinese exchange students boardered at the McGuinty house! This is mention in the G&M column Premier to highlight old ties on China visit (which might be behind the paywall, or try this pdf). No memtion of the position of the 2 boarder, or where the 3rd one is.